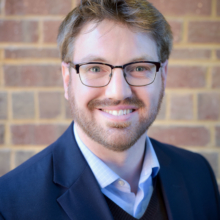 This morning I was honored to lead my first meeting of the Housing Recovery Support Function (RSF) of the State's Disaster Recovery Taskforce (SDRT). Earlier this year, the Governor's office requested that the North Carolina Housing Coalition serves as the lead agency for the Housing RSF. The mission of the Housing Recovery Support Function is three-fold:
To advise on unmet needs and additional barriers in

ongoing Matthew and Florence recoveries

;

To prepare to coordinate with one another in

future disaster recoveries

; and

To advise on advancing

resilience

of people, places, and natural areas. 
Essentially, our job will be to help NCORR decide how to spend the Federal CDBG-Disaster Recovery money and to make policy and institutional recommendations to better facilitate future recovery efforts. The meeting included representatives from Federal and State agencies, service and advocacy non-profits, and others engaged in long- and short-term recovery efforts. These gatherings are public meetings, and so you will be able to access the meeting notes on the North Carolina Office of Recovery and Resiliency's (NCORR) website, but I wanted to share two things that jumped out at me immediately from this initial gathering.
Where's the money?
The frustration about the slow spending of recovery dollars has been reported extensively in a number of media outlets recently. One of the most revealing portions of this first Housing RSF meeting was a briefing from NCORR COO Laura Hogshead about the status of the various allocations of CDBG-DR. For Hurricanes Matthew and Florence, there have been four separate announcements of CDBG-DR allocations from the federal government:
$236.5 million for Hurricane Matthew;

$168 million for Hurricane Matthew;

$336 million for Hurricane Florence; and 

An as yet unknown amount for Hurricane Florence. 
At present, the only money the state has access to is the first $236.5 million allocated for Hurricane Matthew. The second tranche is designated for mitigation, but the Federal Government has yet to designate how they want that money to be spent. None of the money for Hurricane Florence has made its way to the state to spend yet. 
There are also geographic restrictions for the funds. While there were 50 disaster declared counties in North Carolina for Hurricane Matthew, HUD only designated four as the most impacted counties — Cumberland, Robeson, Edgecombe, and Wayne. This meant initially that 80% of the federal funds must be spent in only those four counties. However, the Governor was able to successfully request that Columbus and Bladen be added to the list this last week. These designations have yet to be made for Hurricane Florence. 
Where's the housing?
The second thing that jumped out from all of the comments was just the basic need for more housing. This is nothing new to any of us who do this work. Whether it was a representative from Disability Rights NC talking about how folks he is serving have a hard time accessing reliable information on available apartments, NC Emergency Management caseworkers being unable to move their backlog of families because there is nowhere to move them to, or a similar dynamic from the agencies implementing Back@Home, one thing was very clear — We need more safe, reliable, and affordable housing. This isn't just a repair problem, it is a new construction problem as well. We know that before the storm the state had a gap of 196,000 units of housing that were available and affordable to families making 30% of area median income and below. Building a more resilient North Carolina is going to mean stepping into that gap. 
I am excited to take on this challenge together with all the dedicated advocates, service providers, and public servants gathered around the Housing RSF table. Our goal will be to lean on each other's expertise, experience, and passion to better serve North Carolinians impacted by the storms that have already come and better prepare for the storms that will come. 
To learn more about the states disaster recovery efforts, visit www.rebuild.nc.gov.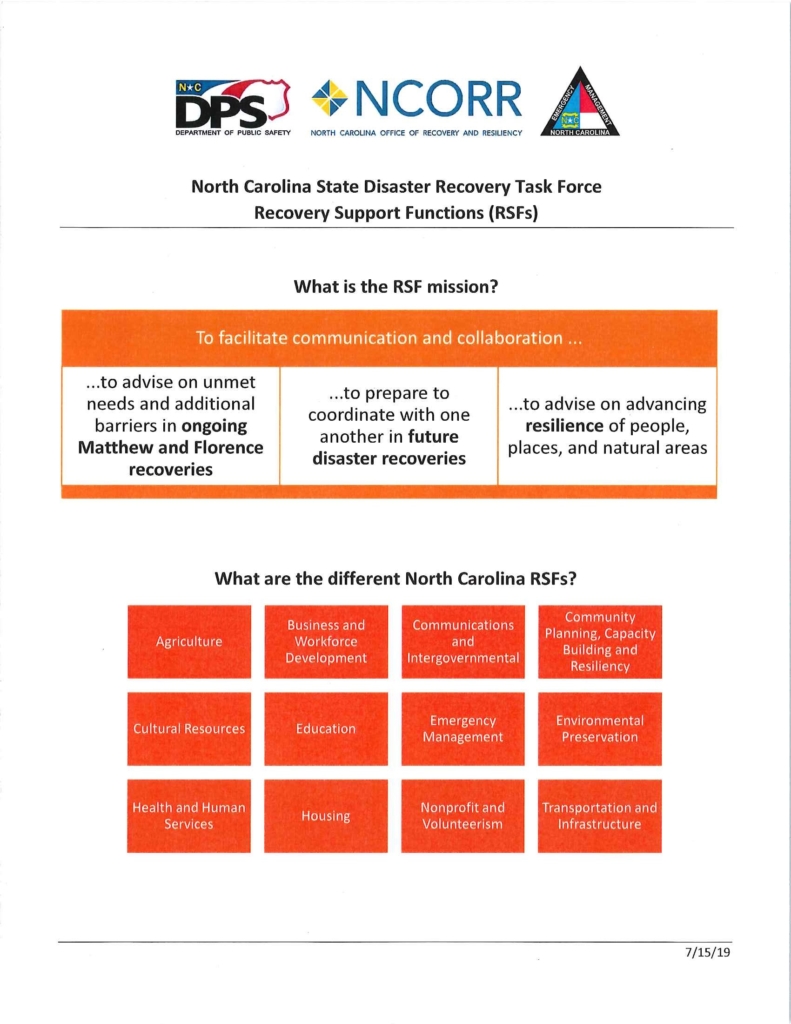 For housing counseling agencies that are engaged in disaster recovery efforts, The NC Housing Coalition's Association of Housing Counselors (TAHC) has partnered with the National Community Reinvestment Coalition (NCRC) for a week of disaster recovery training designed specifically for housing counselors. Over the course of five days, attendees will learn about the types of government and non-government assistance available for disaster preparedness and recovery and how to best implement these resources for their organizations and clients. For the full course descriptions, click here. To register, click here.
2019 Housing Award Nominations
Each year at the NC Affordable Housing Conference breakfast, we recognize individuals who have gone above and beyond the call of duty to advocate for affordable housing. If you know someone who stands out in one of the following areas, please nominate them for an award by filling out this form. The deadline for nominations is August 16.