The mission of the North Carolina Housing Coalition is to lead a movement to ensure that every North Carolinian has a home in which to live with dignity and opportunity. The coalition meets its mission by convening, resourcing, and mobilizing affordable housing professionals, communities impacted by a lack of affordability, and the broader public to pursue policies at the local, state, and federal levels that improve the supply, quality, and access of affordable housing in North Carolina.
Agenda Setting Process
This agenda setting process began in October 2022 with the formation of a Policy Committee. Staff released various surveys to collect feedback from the committee and broader coalition network on priorities and strategies for the 2023 Policy Agenda. The committee developed the agenda based on the areas highlighted in the agenda released in 2021, and feedback received throughout the process. After this hybrid engagement approach through surveys, stakeholder conversations, and committee meetings, the agenda listed below was approved by the NCHC board of directors in December 2022.
2023 Policy Agenda
Priority Area 1
Advocate for reliable, dedicated, and coordinated public resources that meet the scale of the housing need. 
Priority Area 2
Support housing policies and resources that keep families in their homes and allow communities to thrive. 
Priority Area 3
Promote equitable access to housing and opportunity that reckons with our long history of racist housing policies and practices. 
Priority Area 4
Ensure that local policies facilitate an adequate supply of quality housing accessible across a community's income spectrum.
Key Strategies for the 2023 Policy Agenda
In order to move these priority areas forward, NCHC plans to continue advocating for, mobilizing around, and engaging in education around several of the following strategies throughout the upcoming year. 
Our policy agenda and key strategies for 2023 align with four key themes: Funding, Supply, Access, and Capacity.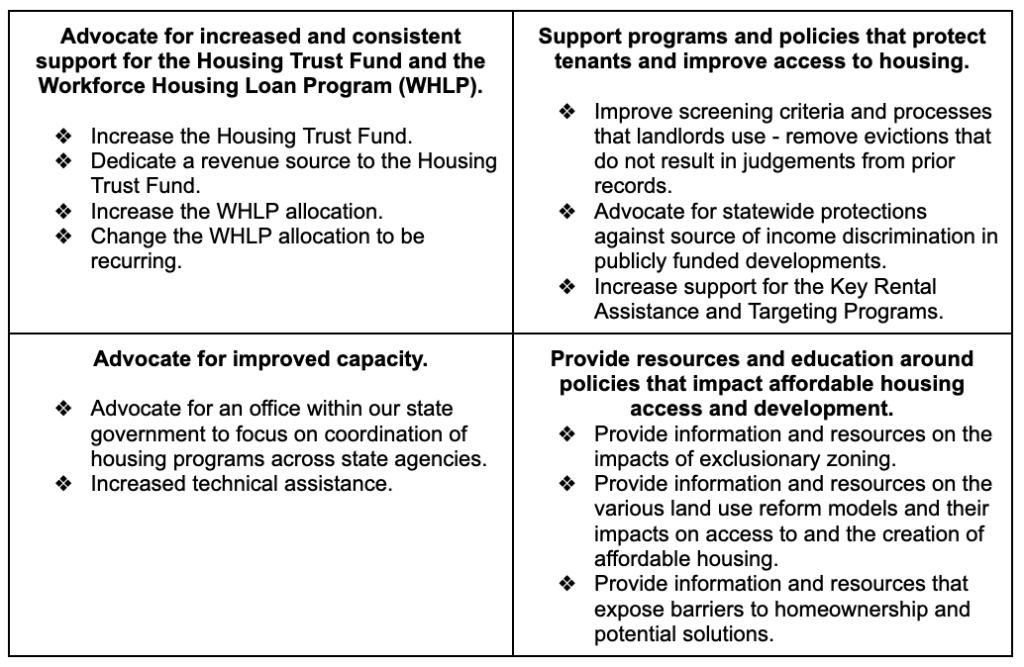 Federal Advocacy 
Advocate for the passage of the Affordable Housing Credit Improvement Act.

Advocate for and provide information on the impact of special purpose credit programs on underserved populations. 

Highlight the importance of first-generation homeownership efforts – and the plan in North Carolina. 
We want to extend a special thank you to the participants in this year's policy agenda development process and on our policy committee. Whether you filled out a survey, had a separate meeting with staff, sent your thoughts via email, or participated on the committee, your engagement is very much appreciated. We can't wait to hit the ground running with you.
NC Housing Coalition Policy Committee 2022-2023
Sofia Crisp
Housing Consultants Group
Lee Cochran
Laurel Street Residential 
Ted Edwards
The Banks Law Firm
Lea Henry
Two Rivers Development Partners, LLC
Alexandra Forter Sirota 
NC Budget & Tax Center
Logan Harris
NC Budget & Tax Center
Brandy Bynum Dawson
NC Rural Center
Torie Keeton 
NC Rural Center
Bill Rowe
NC Justice Center
Claire Williamson
NC Justice Center
Demarcus Andrews
Center for Responsible Lending
Rochelle Sparko
Center for Responsible Lending
Gregg Warren
DHIC, Retired
Natalie Britt
DHIC
Stephanie Williams
NC DHHS
Tiffany Gladney
NC Child
Jacquie Ayala
Habitat for Humanity, Wake County
Mitch Rhodes
Habitat for Humanity of North Carolina
Mark Shelburne
Novogradac
Lesley Allbritton
Legal Aid of North Carolina
Ryan Fehrman
NC Coalition to End Homelessness
Debra Susie
NC Coalition to End Homelessness